DUO LOGOS
New CD 2023
New issue CD recording DUO LOGOS (by Detrad Paris) with Laure Crumière (Jean–François Gassot) with a national tour in France.
You can buy the CD here: https://www.conform-edit.com
---
---

---
Weihnachtskonzert 2021
mit Richard Rittelmann & Norah Amsellem
Am 18. Dezember 2021 um 17:00 Uhr bis 18:00 Uhr
in der Katholischen Kirche Rotkreuz
Eintrittspreis CHF 25.00
Weitere Informationen finden Sie im Flyer: Download PDF
Direkter Link zur Ticket-Reservation: www.ticketino.com
---
Vorankündigung für 2022
Art & Horse Surprise '22
«Pure Emotions» Gala Show
im September 2022
---
---
Upcoming Shows im September 2021
SURPRISE SOIRÉE & MATINÉE
Eine Hommage an die Kunst und die Pferde
mit Baritone Richard Rittelmann
Laeticia Goepfert (Mezzo-Soprana)
und Cavalière Lucy Furrer mit Team
Surprise Soirée
Samstag, 11. September 2021 um 19:00 Uhr
Surprise Matinée
Sonntag, 12. September 2021 um 11:00 Uhr
Weitere Informationen finden Sie unter diesem Link:
https://www.artandhorse.com/shows-and-tickets
---
Bilderausstellung von Dana York begleitet mit live klassischem Gesang von Richard Rittelmann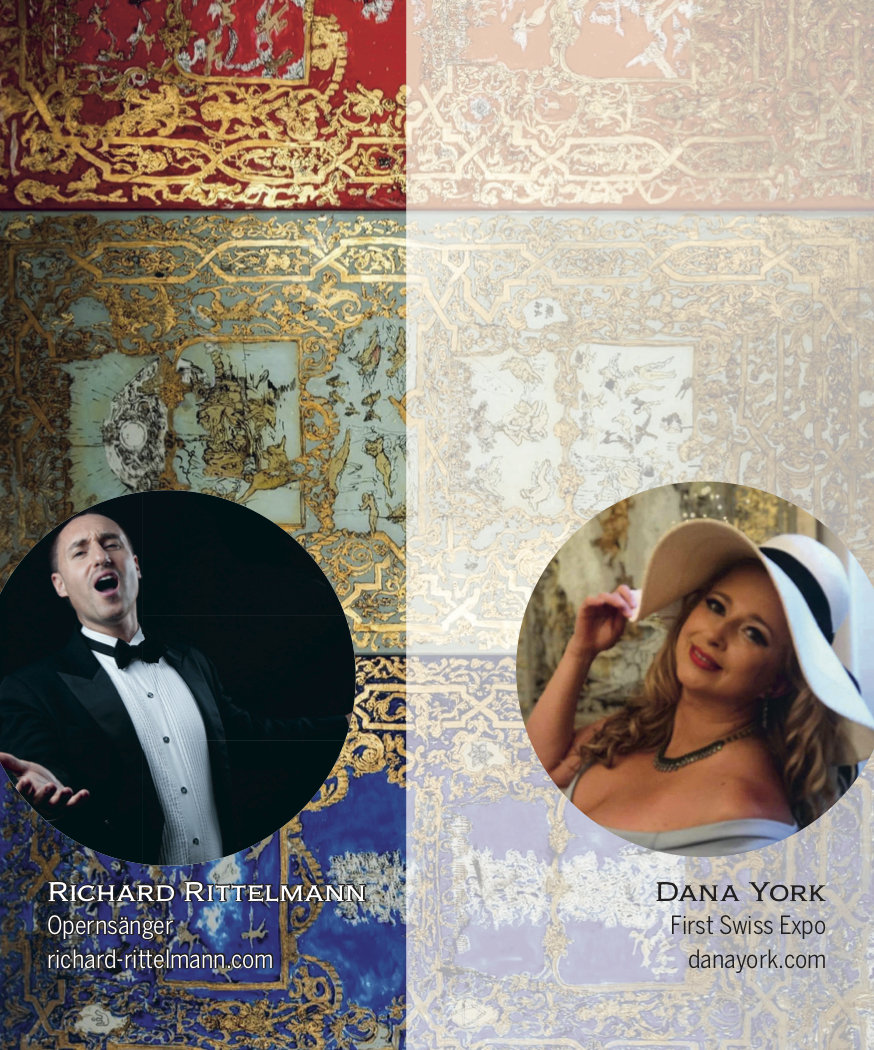 Am 20. und 21. November 2020
In der Altstadthalle
Unter Altstadt 14, in Zug
Ab 10:00 Uhr bis 18:00 Uhr
für jedermann
Link Altstadthalle Zug (Karte)
---
Soirée Lyrique Magique Sous Les Étoiles Au Château Diter à Grasse en hommage à Mady Mesplé et Gabriel Bacquier, avec la coordination artistique de Richard Rittelmann
Image Copyright © IDmediacannes – All Rights Reserved www.idmediacannes.com
---
RICHARD RITTELMANN'S NEW ALBUM 
«CLAIR OBSCUR»

WITH VERONICA YEN
TO BE RELEASED ON 11TH MAY 2020
---
I'm glad to announce the forthcoming release of my first solo album CLAIR OBSCUR on 11th May 2020 with the pianist Veronica Yen.
We decided to record in a concert hall in Taiwan after our last tour in December 2019. The CD contains various arias and songs which appeal to our eastern and western audience.
"After taking part of more than a dozen award-winning recordings, I finally realize my dream to express my art through a eclectic musical choice from my experience and memories of Opera & Musicals."
Richard Rittelmann
Listen to a preview of the CD:
Take a look at the CD booklet here (download PDF)